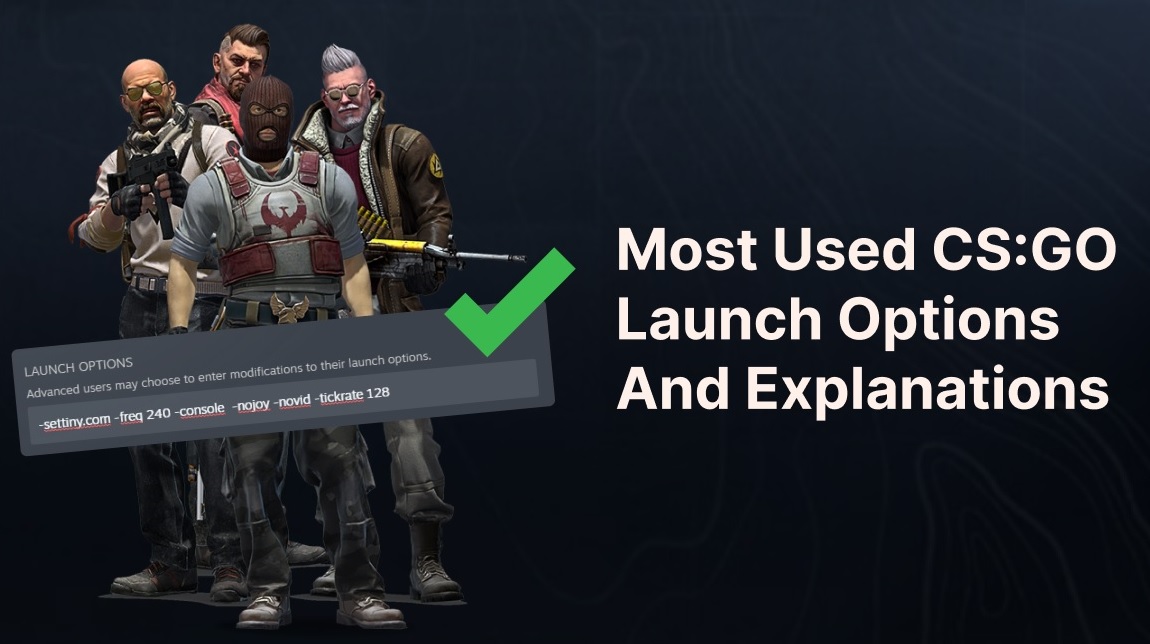 Most Used CS:GO Launch Options and Explanations
This lesson will explain to you the most used and useful launch options for CS:GO. Check out our launch options guide to keep your game running as best as possible.
What is the launch option?
Launch options are commands that allow you to open the game with personalized settings instead of the default settings before the game starts. You can also add console commands to your launch options. It should be (+) in front of them. For example: +cl_interp_ratio 1
Where can I set the launch options?
Right-click on Counter-Strike: Global Offensive in your Steam library on the right side.
2. Select "Properties.
3. Set your launch options by entering the commands into the "Launch Options" text box.
Most Used CS:GO Launch Options And Explanations:
-refresh -freq: This launch option will force the users monitor to run at a specific refresh rate. You must enter the current refresh rate of your monitor. No more, no less!
-console: Your game opens with the console active.
-nojoy: Removes joystick support.
-novid -novideo: Valve skips the intro video and open the game faster.
-tickrate 128: Sets the default tick rate to offline servers with bots to 128, as opposed to the default 64 tick.
-language english: If you want to use CS:GO in English but use the Steam client in a different language, you can use this launch option.
+exec: Helpful for those players that want to execute their own config file.
-fullscreen: Start the game in full screen.
+r_dynamic: This command helps you disable (0) and enable (1) dynamic lighting.
+fps max 0: Play with no limitations on the maximal CS:GO FPS.
Also, many players have launch options on our site. Some of those;
-freq 240 -novid -console -tickrate 128 +fps_max 0
-noforcemaccel -noforcemspd -noforcemparms -freq 240 -console -novid -tickrate 128
-console -novid -freq 240 -tickrate 128 -w 1280 -h 960 +exec config.cfg +clientport 27022